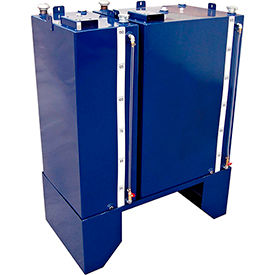 Onken Lube Oil Storage Tank Systems
Lube Oil Storage Tank Systems Provide Dependable, Safe Storage Of New Or Used Bulk Lubrication Oils.

Lube Oil Storage Tank Systems are manufactured from heavy gauge steel with powder coat finish for long lasting durability. 150 or 300 Gallon Tanks are UL142 approved for safe flammable liquid storage in vehicle fleet maintenance operations. Tanks feature channels on the bottom for practical set up on the floor. Tank includes fittings to accept pumps for convenient dispensing of lubrication oil. Tank Racks permit gravity fed dispensing with a customer supplied valve. Dimensions vary per model. Consult local fire codes regarding oil storage before purchasing.