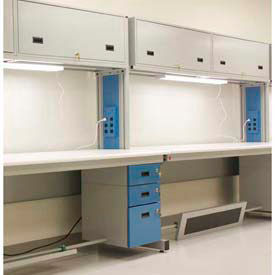 Modular Work Bench Starters & Adders
Modular Work Bench Starters And Adders Provide Interchangeable Components To Create Task-Specific Office Environments.

Modular Work Bench Starters And Adders are constructed with an aluminum upright, steel brackets and laminate panels for long lasting durability and dependability. Configured workstation system customized with extensive line of accessories allows for cost effective and productive plant layout. C2 benches offer UL Listed Single Dedicated Electrical Circuit (DEC) system. Electrical box with 15A or 20A outlets provides enough power for multiple electrical requirements. System includes one, two, or four electrical circuits. Mounts within upright to help reduce work surface clutter. Air distribution can be added to upright or work bench front beam. Easy to add and install power cord with interconnecting electrical support adds to benches using minimal power drops. Upright storage and drawers not included. UL Listed, File E243365. Available in a variety of sizes and configurations to meet work bench requirements. Laminate color finishes are White/Grey/Blue and Grey/Blue. Quantity is 1.