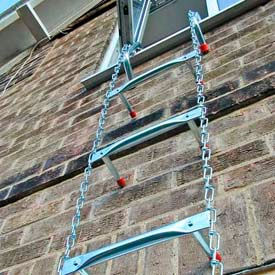 See all 9 items in product family
Saf Escape Ladders Are Used For Apartment Complexes, Office or Public Buildings.

Saf Escape Ladders are made of 18 guage steel chain for long lasting diurability. Tested to hold up to 1000 lbs. Second, Third and Fourth Story types available. Lengths are 15, 25 and 45 feet. Made for standard wall thicknesses between 5" to 9-1/2" deep (inside wall to outside wall). Tangle free steel link chains. 5 pairs of stand offs included to keep ladder away from building for easy footing. Stand offs screw into selected, pre-drilled rungs. Standard or Extra Wide Hooks available.


Click for more