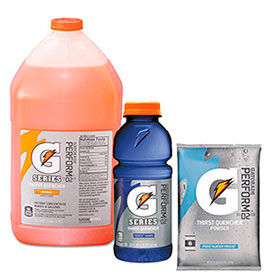 See all 91 items in product family
Sports Drinks Are Used For Applications Including Athletic, Educational, Food Service, And More.

Sports drinks are made of natural ingredients for long lasting quality. Drinks accommodate sporting events, outdoor venues, work environments, and more. Beverages provide a scientifically validated blend of carbohydrates and electrolytes to replenish fluids and maintain hydration. Includes various quantities, types, and brands for application versatility. Available types are Bottle, Can, and Packet. Styles are Energy Drink, Fast Pack Drink Package, Sports Drink, Sports Drink Concentrate, Sports Drink Mix Sticks, and Sports Drink Powder.The sports drinks come in variety of flavors and assorted sizes. Brands and dimensions vary per model.Products are non-returnable.


Click for more