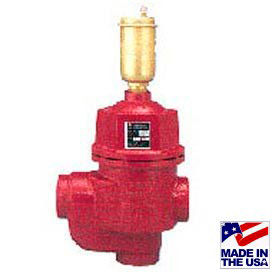 Enhanced Air Separators
Bell and Gossett Enhanced Air Separators Are Used For Residential, Institutional And Light Commercial Applications.

These air separators are engineered to remove entrained air from hydronic heating and cooling systems, providing superior air removal compared with other devices. Enhance air separators are built to last using rugged two-piece cast iron body and cap construction. Internal parts are all stainless steel. Vent has a brass body and non-ferrous internals. These air separators are easy and convenient to install; requires no minimum pipe run. Features straight or angle pattern installation capability. Usable for systems with either steel compression or diaphragm expansion tanks. Includes a removable and replaceable 3/4" high capacity vent.
How it works:
As system fluid enters through the inlet, (either straight or angle) the diffuser distributes flow evenly across the stainless steel, wire brush-like medium. Air bubbles, even micro air bubbles, stick to the brush filaments. Trapped air rises above the diffuser through a baffle where the air is then released through an opening at the top. De-aerated water then goes back into the system.