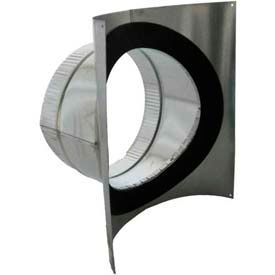 Speedi-Products Round Pipe Saddles
Speedi-Products Round Pipe Saddles Are Designed To Quickly And Efficiently Start Branch Runs From Round Pipe Trunk Or Branch Lines.

Speedi-Products Round Pipe Saddles have a sheet metal construction for long lasting durability and strength. Used for use in do-it-yourself projects, remodeling and new residential or commercial HVAC (heating, ventilation and air conditioning) applications. Features an adhesive gasket that attaches to round pipe metal trunk lines for a secure connection that doesn't require added sealants. There are no sharp tabs to bend back like on standard saddles, which take extra time and can cause serious, painful injuries. Comes in a silver coloring for easy identification. Available with a Volume Damper for increased air flow control and balancing. Dimensions vary for increased versatility.