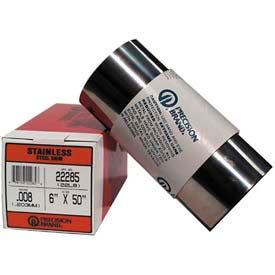 Stainless Steel Shim Stock
Stainless Steel Shim Stocks Are Used For Pilot Production Runs Where Material Accuracy And Economy Are Important.

Stainless Steel Shim Stocks are made from a full hard, cold rolled 300 series stainless steel for long lasting durability. Produces excellent forming qualities and may be lightly drawn, blanked or stamped. Shim is clearly marked with material type, material thickness, and lot # for full traceability. Manufactured under rigorous quality control standards to assure high accuracy and tight tolerances. Lengths are 24", 25", 50" and 60" Widths are 6" and 12" Available thicknesses vary. Precision Brand® Branded Shims contain all necessary information, such as material type, thickness and tracing lot number, printed directly on the shim surface.