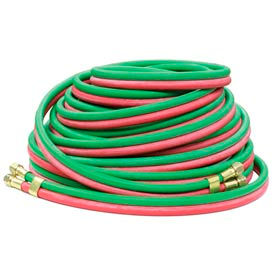 Welding Hose/Cable Assemblies
Welding Hose Assemblies Are Used For Welding Operations In Factories, Construction Or Other Industrial Work.

Welding Hose Assemblies are made of rubber for long lasting durability. One line red and one green bonded together for easy handling. Flexible hose connection must be used between hose reel inlet and source of supply to prevent possible misalignment and binding or warranty is void. Please furnish part number-product and pressure to be handled, when ordering. Types are Hose and T-Hose. Hose lengths are 2', 4', 6', 25', 50', 60' and 100'. Color is Red/Green. PSI is 200.