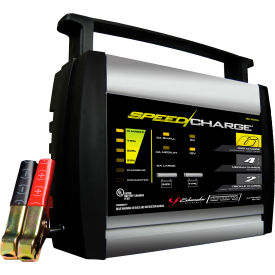 Schumacher Electric Battery Chargers
Schumacher Electric Battery Chargers Maintain and Charge Automotive and Marine Batteries.

This energy-efficient charger is fully automatic. Electric Battery Charger charges standard, AGM, gel cell and deep-cycle batteries. Digital display and push buttons make it easy to use. Microprocessor controlled feature automatically adjusts the amperage rate to charge and maintain correctly. Multi-stage charging adds precision, safety, and battery life. Float mode monitoring automatically maintains optimum battery charge. Battery types are Charger and Maintainer and AGM/Deep Cycle/Lead Acid/Wet Cell, AGM/Deep Cycle/Lead Acid/Lithium, and AGM/Deep Cycle/Lead Acid. Reverse hook-up protection ensures that charger will not operate if clamps are reversed; LED indicator will flash. Energy efficiency meets the highest industry standards. UL approved. Amps and volts vary.