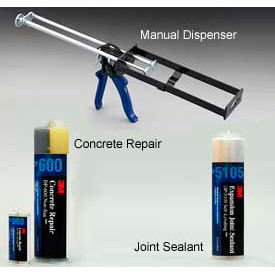 3M™ Concrete Repair
Repair concrete on sidewalks, pools, building and more with these easy-to-use 3M™ concrete repair products.

Scotch-Weld Concrete Repair is used as a rapid-setting, two-component polyurethane concrete restorer. This concrete repair product is great for manufacturing and assembly work. Choose between non-sag and self-leveling. Choose between the 3M™ Manual Concrete Dispenser or the Pneumatic Dispenser for concrete crack repair and urethane products.

The 3M™ Scotch-Weld Control Joint Sealant is the used horizontal-grade sealant for stress-relieving large concrete blocks.

The 3M™ Blunt End Mix Tips produce heavy concrete beads that are used for most concrete surface repairs and bonding jobs. produce fine beads of concrete for small seam sealing and impact strips. 12 tips per bag.