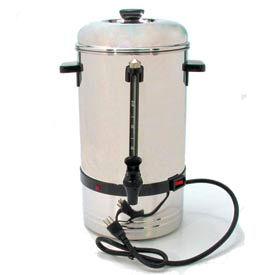 Coffee Percolators & Urns
Coffee Percolators Urns Quickly and Efficiently Brew Coffee For Restaurants, Cafeterias, Break Rooms and more.

Coffee percolators and urns are constructed of durable stainless steel with a bright mirror finish for lasting dependability. Selected features include safety spigots, sight glass for viewing coffee level, attachable cup rests, drip trays, locking safety lids and more. Select models feature a safety spigot, which returns to "off" position to prevent spills. Cup capacities and dimensions vary per model.