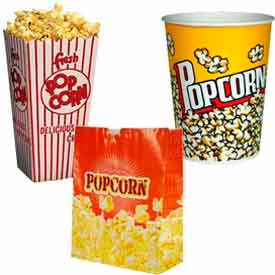 Popcorn Bags, Boxes, & Buckets
Popcorn Bags, Boxes and Buckets Are Used For High Volume Popcorn Distribution such as Movie Theatres, Fairs, Amusement Parks, and more.

These bags, boxes, and buckets are made of paper and cardboard for long lasting durability and dependability. Variety of popcorn bags, boxes and buckets available with colorful designs and in assorted quantities and sizes. Types are Combo Serving Tray, Popcorn Bags, Popcorn Boxes, Popcorn Buckets, Popcorn Butter Bags and Popcorn Scoop Boxes. Sizes vary per type. Package quantities are 50, 100, 250 and 1,000.