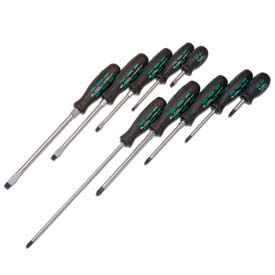 K-Tool Screwdriver Sets
K-Tool Screwdriver Sets Are Versatile And Dependable For Workshops Of All Kinds.

K-Tool Screwdriver Sets are crafted with chrome vanadium blades for long lasting durability. Set of 5 includes 3", 4", 6", 8" and stubby. The Set of 8 includes #1 Phillips 3" blade, #2 Phillips 1-1/2" stubby, #2 Phillips 4" blade, Stubby Slotted, 3" Slotted, 4" Slotted, 6" Slotted and 8" Slotted. Both are available with handles in Plastic and Tri-Grip. in Black, Green, Orange and Red.