WHAT IS PREP FOR PEAK AND HOW CAN WE HELP YOUR BUSINESS?
The peak season can already be a stressful time for companies when you consider factors like the holiday consumer demand, inventory obstacles, warehouse maintenance and material handling. Now, add on the supply chain crunch everyone is experiencing and you've got the potential to be caught unprepared and under delivering on end of year expectations. Learn More >
RECEIVING PRODUCTS
3 TIPS FOR GETTING YOUR FACILITY READY FOR PEAK SEASON
Think outside the box – It's possible more will be needed to support your team. Analyze your fleet size and warehouse practices and note room for growth. You may consider investing in more conveyors, pallet jacks, forklifts, and mobile powered carts to streamline the workflow.
Temperatures – The temperature in your facility is vital to your success. Make sure you're operating equipment within its rated temperature. When your power source is running outside of its rated temperature, performance will decrease and can damage equipment.
Loading docks – The efficiency of your loading dock is paramount to staying on schedule and keeping your staff safe. Look into railing systems and adding lights to improve the loading and unloading experience at night. Gloves, safety vests, and hard hats also go a long way.
To avoid product and monetary losses while ensuring safety, consider these best-selling products for moving inventory and orders around a manufacturing, distribution, or retail facility.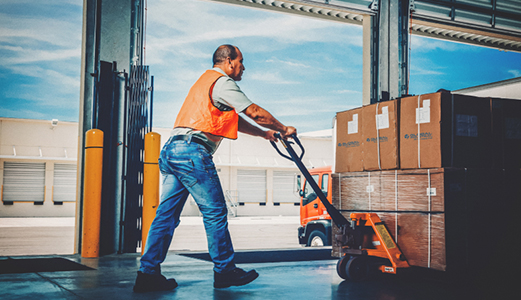 ---
STORAGE
3 TIPS FOR GETTING YOUR STORAGE AND SHELVING READY FOR PEAK SEASON
The system – Decide on a method for organizing and storing materials, products, or customer orders. Whether it's alphabetically, color-coded, or by product function, your staff will work faster within a more organized system.
Labelling – Remove old adhesive labels and barcodes to make way for new ones and remain consistent with inventory locations. This will reduce confusion and product misplacement throughout your facility.
Equipment – Invest in wire shelving, industrial pallet rack systems, stackable bins, and pallet racks. Consider different configurations for different needs and products and if all else fails — build your storage up.
When looking at spaces where your storage will be arranged, the options seem endless. From the small business backroom to the industrial sized warehouse, we can help you simplify your options.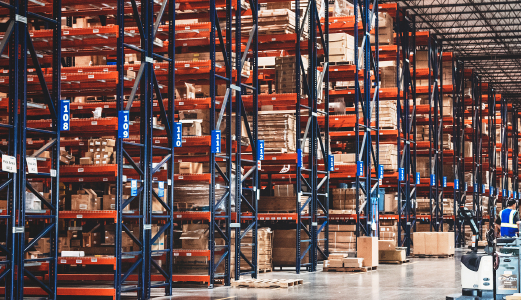 ---
PACKING AND SHIPPING
3 TIPS FOR SUCCESSFUL PACKING AND SHIPPING DURING PEAK SEASON
Secure a space – The larger the workbench, the more efficient you can be. Your packing workbench should have a smooth surface with easy access to supplies such as, boxes, packing materials, and labels. Consider adjustable heights if you'll be performing different tasks and storage options that help you keep materials all in one place.
Accessorize – Adding lighting, electric aprons, and mounting arms for electronics will help you multitask and keep your workbench surfaces clean. Invest in a healthy stock of label and tape dispensers, bag sealers, and carton sealing machines.
Go mobile – Allowing your equipment to be relocated throughout your facility can improve workflow. Place conveyors between workstations and leading to loading docks. Utilize stretch wrap machines to secure products if necessary and install safety guards and ramps to improve the loading dock experience.
When busy periods strike, the ability to expand or move your workstation helps you stay nimble. Our workbenches and shipping products are designed to handle every task and will meet your business needs during the holiday rush and beyond.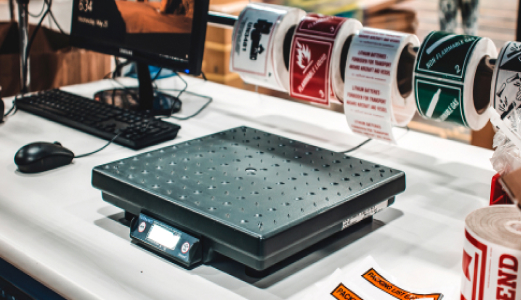 ---
CLEAN YOUR SPACE
3 TIPS FOR CLEANING AND ORGANIZING YOUR WORKSPACE BEFORE AND DURING YOUR PEAK SEASON
Maintenance – Keep up appearances and maintain safety with floor scrubbers, janitorial carts, and cleaning kits for fast and efficient cleaning in high-traffic areas.
Supplies – Keep a room or closet fully stocked with cleaning solutions, cloths, mops, and shadow boards.
Disposal – Make sure trash cans are accessible around every corner. Stock up on can liners and get a system in place for waste removal on a daily or hourly basis.
The rush in holiday orders will definitely impact your workspace. Maintain solid cleaning schedules to help keep inventory in tip-top shape and surrounding spaces easy and safe to navigate.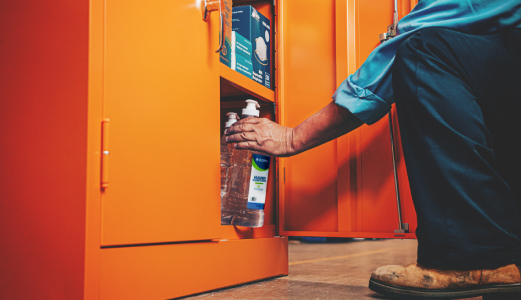 ---
SAFETY & SECURITY
3 TIPS FOR MAINTAINING A SAFE WAREHOUSE OR WORKSPACE DURING PEAK SEASON
Training – Ensure operators are briefed and comfortable using all necessary equipment such as pallet jacks and forklifts. Operators should be careful not to overload the equipment, only use it in designated areas, and should always follow safety protocols.
Dress for success – Invest in safety gear such as, hard hats, gloves, body harnesses and high-visibility vests. Place safety signs around areas where the floors are uneven or an incline appears.
Clear the way – Store all machinery and accessories out of sight to reduce tripping hazards and maintain clear access to fire exits, extinguishers, and other emergency equipment.
Implementing safety procedures and practices upfront is a great way to ensure your staff are protected and protocol is being followed. As your team nears the surge in holiday business, it is paramount that best practices not be forgotten.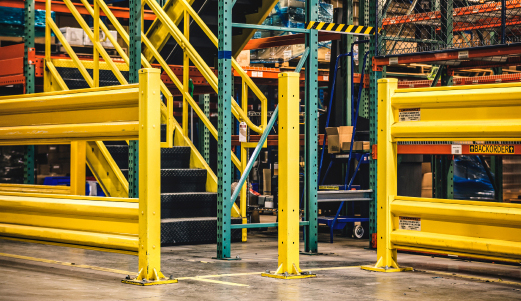 ---
1. Get organized – Throw out old or broken equipment and refresh your space. Secure or replace shelving to keep warehouses, storage rooms, and assembly lines organized. Utilize bins and totes for increased inventory and pallet racks for large-scale operations and materials.
2. Maximize your space – Improve your team's productivity with workstations outfitted for preparing orders and packing goods. Keep stock of items such as, shipping boxes, bubble mailers, poly mailers, packing material, and shipping labels.
3. Fully equipped – As you prepare for increased orders this season, having the right equipment such as, pallet jacks, lift trucks, hoists, and cranes to move your products can make all the difference.
4. Show off – Make sure your retail space properly showcases your products. Cohesive merchandising will help increase sales exponentially throughout the busy season.
5. Keep it clean – Implement cleaning and organizational routines to ensure your staff and customers have a safe environment to operate and shop in.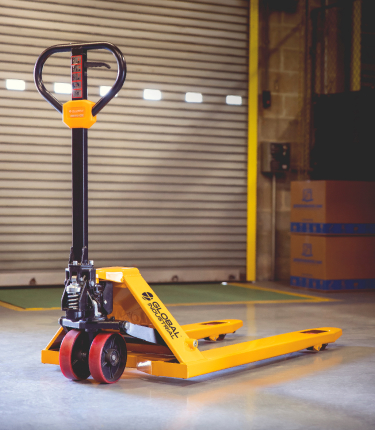 ---
---